Hi,
I'm still very much attracted to parcels stock and acquired a couple of the early body style LMS CCTs from a trader at Chatham exhibition in June. The main challenge is the underframe - its long wheelbase making some form of compensation or springing absolutely essential for reliable P4 running.
The solution I came up with (based on stuff available to me rather than making new purchases) was to use Masokits variable wheelbase springing units with brass W-irons sweated on to them. This required the removal of all detail within the solebars/headstocks and considerable removal of plastic behind the springs (losing the plastic axle-boxes and w-irons in the process).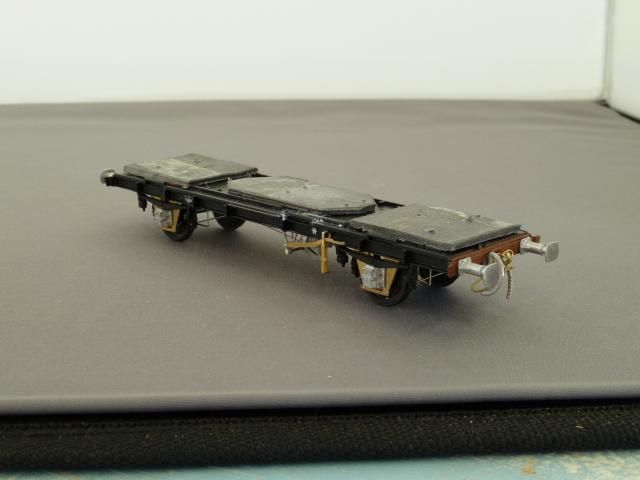 Lead pieces have been added to bring the running weight up to 80gms. Replacement buffers are by Dave Franks (Lanarkshire Model Supplies)
There is always plenty of additional detail that can be added to an underframe - particularly important, in my opinion, when the gap between the wheelsets can otherwise look very empty. O.40mm dia. n/s wire was used for the safety loops, brake shoe cross-shafts and linkages. The axle-boxes were retrieved from some old ABS castings for the CCT (cutting off the springs and w-iron)
The completed underframe ready for re-uniting with the body.
Cheers,
Richard