Hi,
With David Faulkner steadily making progress on MK2 coaching stock it's time to get their complementary MK1 vehicles moving (and use up some of the great heap of compensation units we now have in stock). The full brakes are a good place to start as (famous last words) the Bachmann model is fundamentally correct but capable of being upgraded.
Here's a shot of two BGs together having been mated with appropriate compensation units. The vehicle on the left is destined to receive BR1 bogies and therefore has larger diameter wheelsets whereas the vehicle on the right will have B4 bogies and therefore has 3ft diameter wheelsets. I'm going to try as far as possible to keep the blue-grey livery intact. If anyone wants to know the detailed steps I took to get this far then please fire ahead. No work on the bodies has yet been started.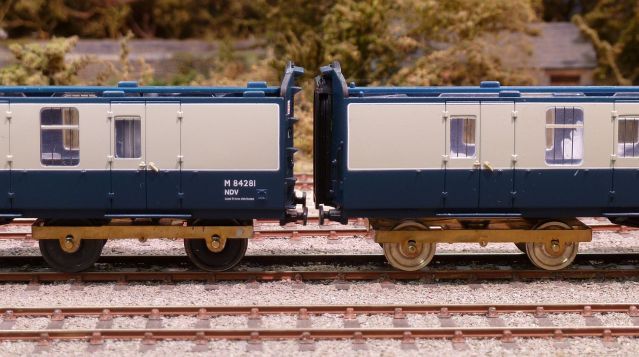 An overall shot of the two vehicles.
The complete BG build is shown following our customary discovery of vehicles lurking in everyone's stock stashes. This will give us ample opportunity to demonstrate the detailing differences in the BG fleet in our time period. I'm certainly going to include one example of the high security variation with all opening windows plated over and grid mesh rather than window bars.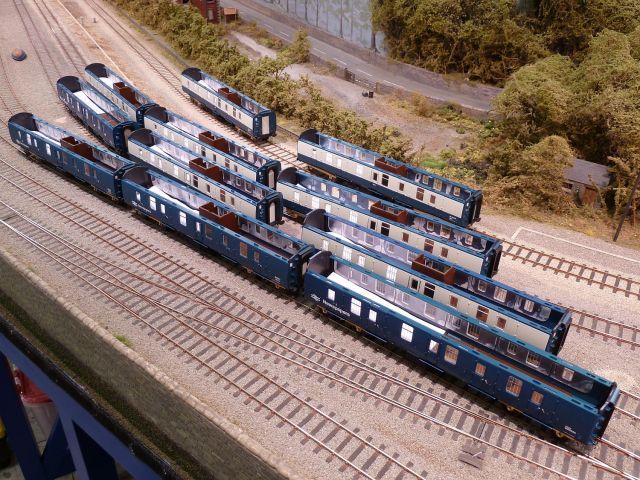 Cheers,
Richard